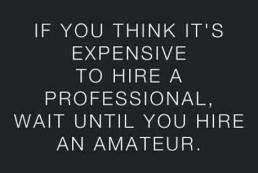 Recently a close friend of mine remarked about the new trend in our industry of reduced fee brokerages. I must preface this by stating that in New Jersey, as is the case in most states, commissions are absolutely negotiable between client and broker. This is the law.
Anyway, my buddy went on to comment how there are brokerages (who shall remain nameless) willing to list your home and place it in the appropriate MLS for a few hundred dollars. Also, there are brokerages that will give back most of the commission they earned as buyer brokers to the buyer. So, he asked, is this new wave the way this will be in days to come?
In 1984 a nice guy named Phil Lotke, a broker had a flashing neon sign in his office fronting on Rt. 18, a big, green 4% sign. In 1984 the customary listing commission was 6%. Phil had a good but brief run prior to going out of business. In the go-go market of the late 90's, the British firm Foxton's hit our shores with massively reduced commissions and 1% offered to co-broke offices. They initially made some market penetration but, after a few years folded their tents and went back to England. So now we are, once again, seeing the "new trend" of reduced fees.
Our market has been robust for the past 3-4 years. It's a natural part of most businesses that in boom times there will be startups with "new" business models hoping to cash in on the gold rush. This is, in my opinion, what my friend has noticed.
Residential real estate is cyclical. Eventually, the market will slow down and sellers (and buyers) will look for the value which an experienced Realtor brings to the transactions.
Real estate is a labor intense, time-consuming business. The overhead is substantial and the potential financial risk to the consumer is massive.
Despite the easy information available to anyone online, smart sellers and buyers will continue to rely on traditional, local market experts to guide them. Some consumers, of course, will be lured into the low to no fee concept. Then again, some people look for low-cost plastic surgery and all you can eat sushi for $9.99.
I like working with smart clients.